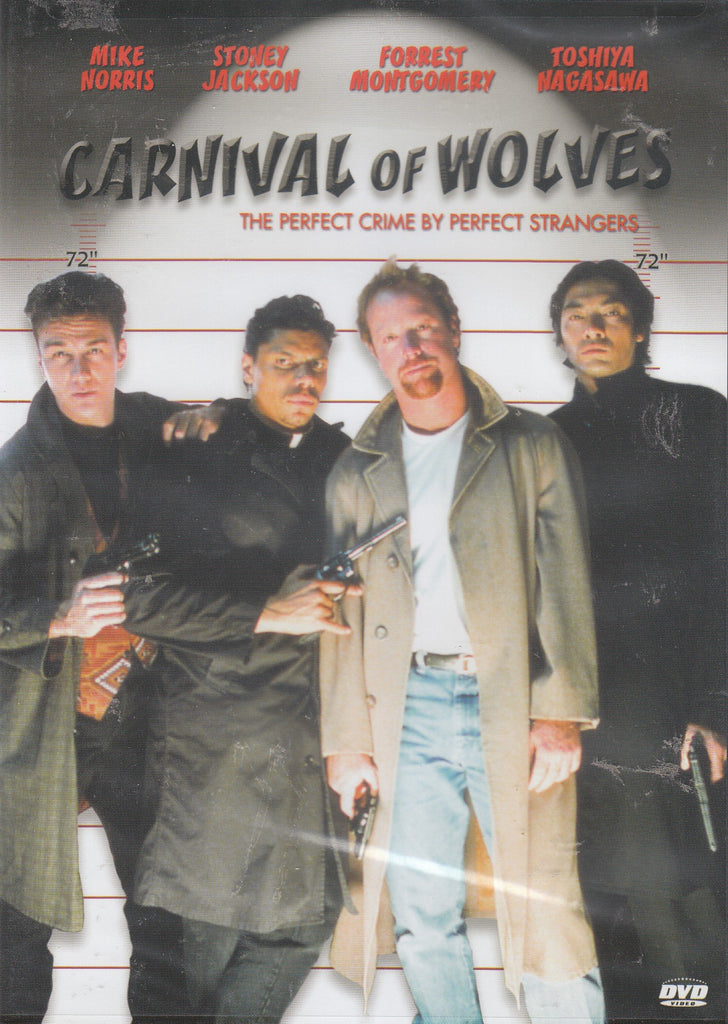 ---
Carnival Of Wolves
Summary:
When you have nothing . . . like Bob fired for over-charging customers, or Kuroda, a saxophone player fired from an all black jazz band 'cause he's not a "soul brother" or Sergio fired from Al's Bar when a fight breaks out with him in the middle, or Johnny a con man who dresses like a priest to collect money for his favorite charity - himself . . . then you have nothing to lose.
When Sergio is attacked at Al's Bar, Bob, Johnny & Kuroda come to his rescue. The bar owner clears the bar with his shotgun. Later that night these perfect strangers discuss the "American Dream" including a plan to achieve it by robbing a casino owned by the Chinese Triad.
The daring robbery is a heart pounding ride of twists and turns in the glamour setting of a hotel casino. But this hold-up doesn't go as scheduled because the plan didn't include surveillance cameras or getting shot. Quick thinking and bullets are all that makes their escape possible. Simon, the head of the Triad, demands revenge.
Sergio has broken his promise to not spend the stolen money for six months. He uses his share of the money to buy a fancy car and expensive clothes then pay his gambling debt to strip a club owner. He is caught by the Triad and is coerced into locating his accomplices while they hold his girlfriend hostage.
Sergio leads the Triad to Bob's parents' farm in Texas. In an explosive car chase and gun battle, Sergio along with Bob's parents are murdered by the Triad. Bob returns to Los Angeles to warn Kuroda that he is in danger. Kuroda knows the kind of danger he is in as he has been gambling at the casino they robbed and sleeping with Katrina, Simon's girlfriend.
With money in his pocket and renewed hope for a better life, Johnny searches the streets for his son who is involved with a vicious gang. Johnny's dream is cut short when he returns home to find Triad Agent 386 waiting for him. 386 mockingly confesses to this phony priest of murdering Sergio before killing Johnny.
Bob and Kuroda battle the Triad in a bloody gun fight, killing Simon. To clear his conscience, Bob gives his share of the money to Kuroda. Finally, justice comes full circle when Kuroda is killed outside of Al's Bar by the same gang of thugs who jumped Sergio the day they met. They escape with the Triad's money.
Bonus Features:
---
Share this Product